Hello friends, I hope you are doing well.
Several of you have approached me to ask me how in the name of the Lord I have been able to cash my Steem Dollars so I figured the need was out there and I am creating this easy guide for you to be able to do it in a jiffy.
The very first thing one has to do is to open an account with a trading platform for crypto currencies. I prefer Bittrex.com. I have been using it for a while and it is very reputable and easy to use.
So, go ahead and open your account there, its easy and very safe, no need to fear.
The first thing we are going to do is to retrieve a "memo" to be able to send Steem Dollars to your Bittrex…
Once you are in, click on "wallets" right under this.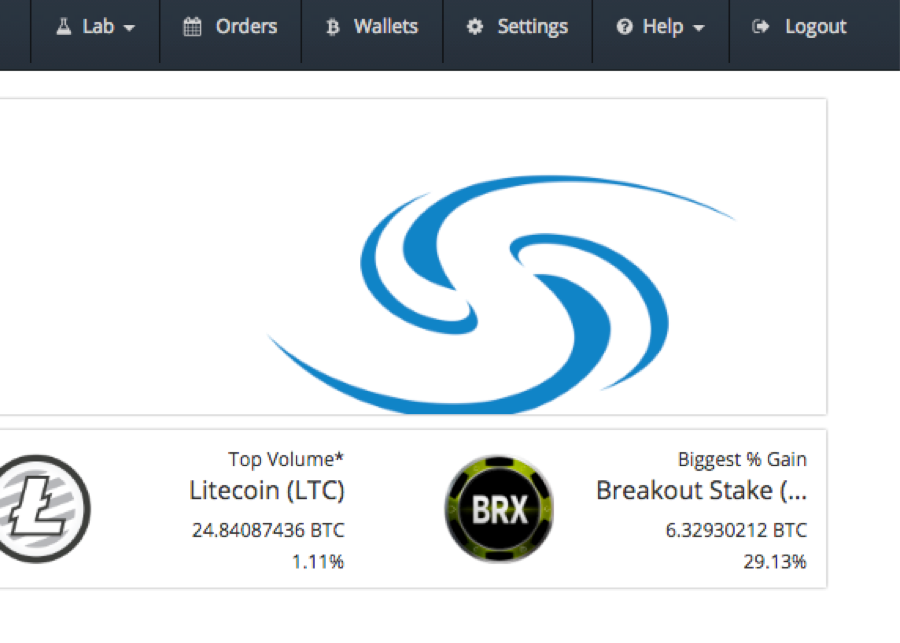 Here, type on the search bar: "Steem Dollars" and it will only show that option.
Click on the "plus" sign next to it and get the "memo." Copy it because we are going to use it soon.
Go back to your Steemit account and go to your wallet. Click on the downside triangle next to the amount of steem dollars and click on "transfer."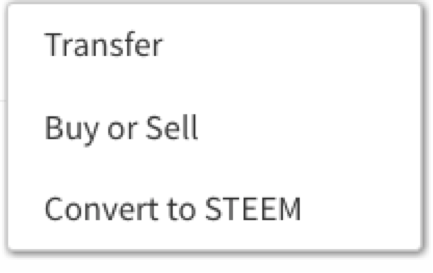 This window will show up next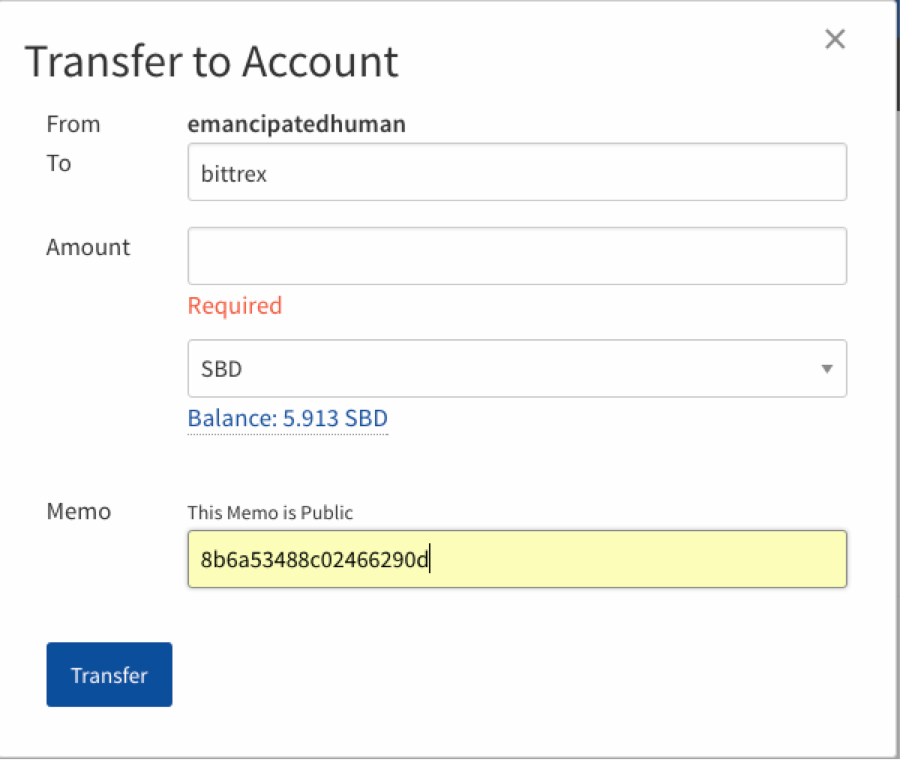 Type in or paste your "memo," type bittrex on the "to" section, and add the amount you want to send.
I would suggest you do your first try with a small amount in case you make a mistake somewhere along the process.
Once you click "transfer" go check your email to see if you have a pending transfer permission you need to approve.
Quick tip: you will not need to get a "memo" every time you do this… you can use the same "memo" every time. Below the wallet you will see the history and it will save the "memo" used.
This is the coolest part of all. Here you get to trade your SBD for BTC.
Click this link and it will take you to the trading platform.
In the middle of that page, on the right side you will see this: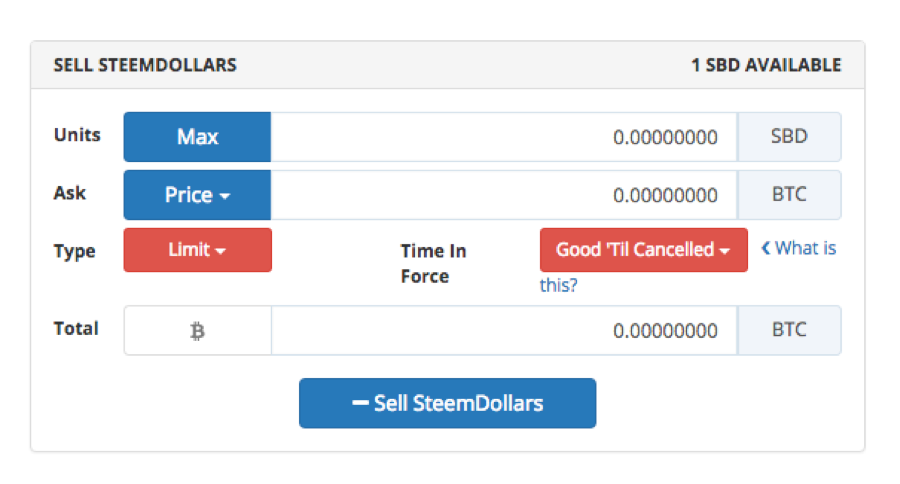 Under "Units" click as much as you want to sell. You can always click "Max" to do all of it at once.
Then click "Price" and set for "last" since it is the latest trading price.
The last step here is to click "Sell SteemDollars" which is the blue button.
You will see this popping up: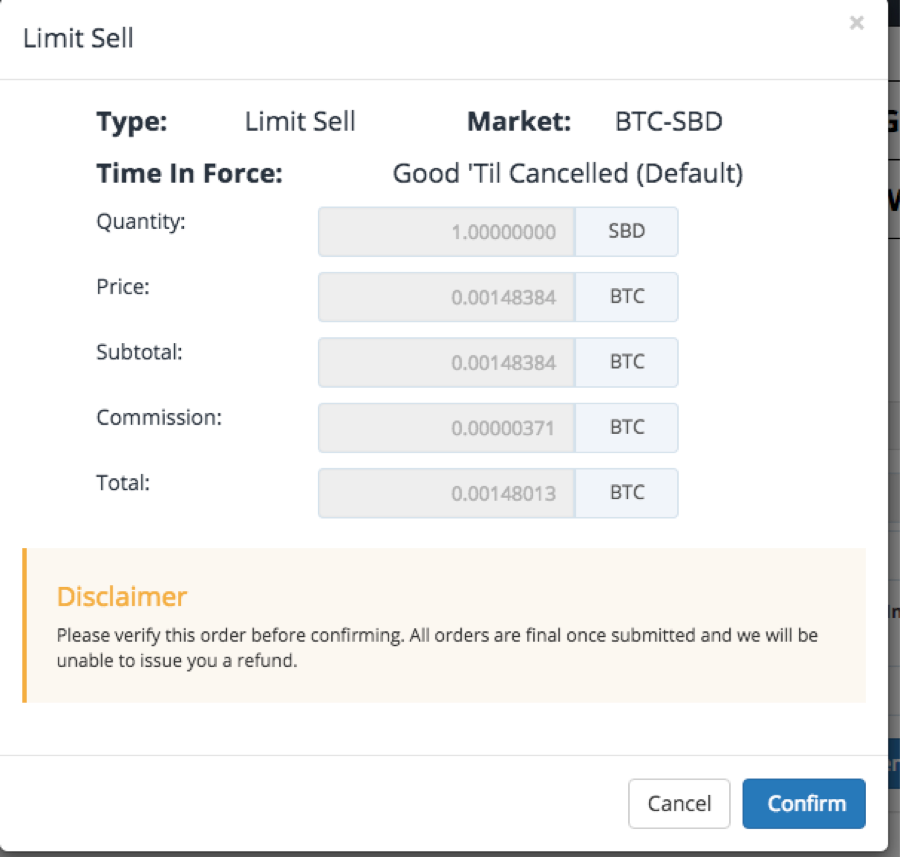 Click "confirm" and go back to your email to confirm the sell. This might take up to 5 minutes. Don't dismay.
At this point, you have sold all your SBD and now have BTC in your trading platform.
What you need to do now is send that BTC to where you can use it/spend it.
Click on Wallet at the top menu again. Search for "Bitcoin" and click the "minus" sign. Once that window shows up, populate the address and the quantity. You can always click the blue arrow to have everything at once.
There's one thing, it does cost to do this process since the trading platform has to make money too. Once you are sure and ready about your decision, click "Withdrawal" and you will be almost set.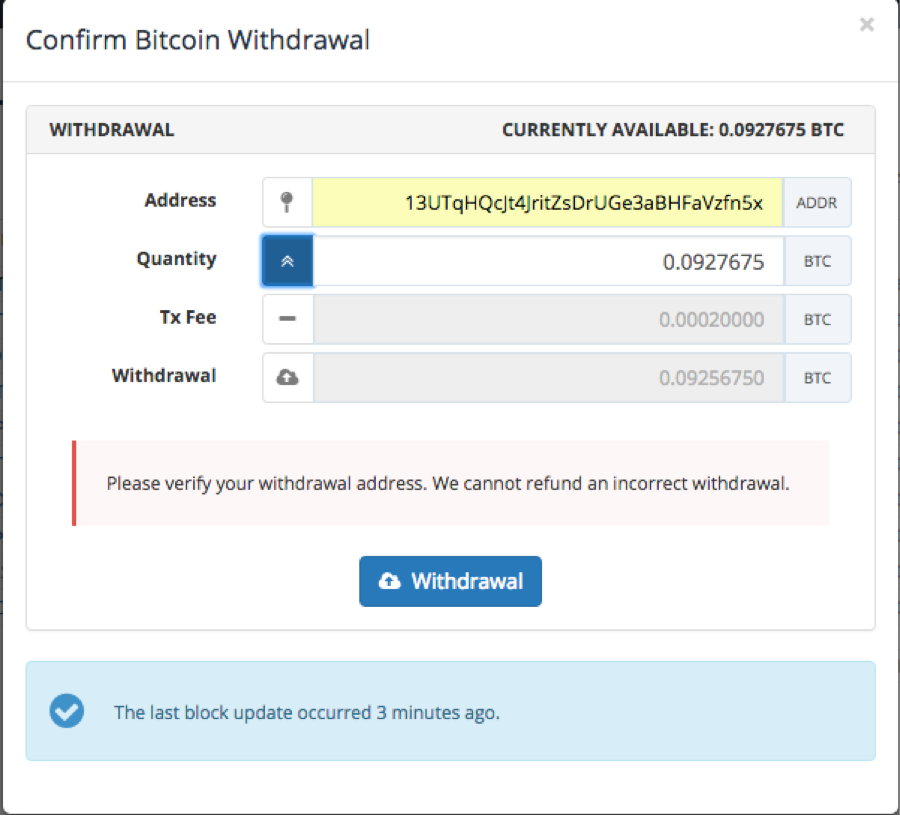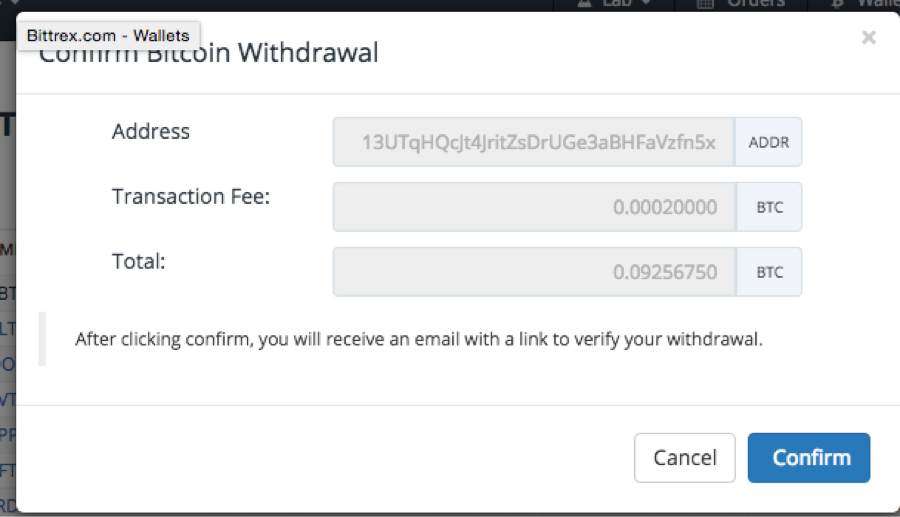 Check your email once ore to verify your withdrawal.
At this point, you should have your BTC in your personal wallet to be able to use or trade for USD or any other currency.
I hope this guide was helpful for you.
I want to extend my gratitude to my friend John Rilinger because he was so patient with me and took me by the hand and explained the process the first time I went through it. I know it can seem daunting and make you feel inadequate. Be gentle with yourself, you got this shitte.
If you think this was just amazing, I'd take a few bits here: 13UTqHQcJt4JritZsDrUGe3aBHFaVzfn5x
This post originally appeared on Steemit here.